Forum Archive
Mission
Our speakers believe what we believe in: valuing and protecting human lives, regardless of socioeconomic status, resonates with the mission of our institution.
History
In 2005, Notre Dame held its first annual Notre Dame Forum as a way to commit to framing, discussing and seeking solutions to critical moral, ethical and humanitarian challenges facing our nation and the world. As a leading Catholic university, Notre Dame's forums focus on topics that resonates with our mission. We discuss them within a moral framework informed by faith and religious beliefs.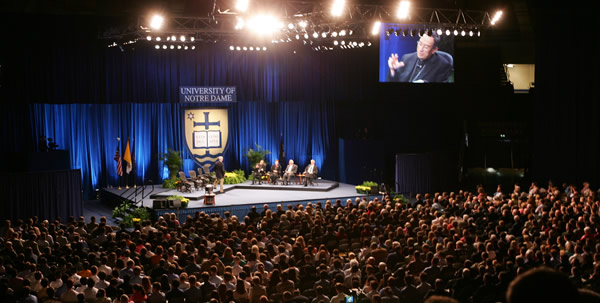 A cutting-edge facility to forge 21st century solutions to the global health crisis. This year's Forum coincides with the opening of our new Jordan Hall of Science... > Read More
Subscribe

11.22.2006
In commemoration of World AIDS Day on December 1st, the World AIDS Day task force sponosred by the CSC will be hosting a week of events that focus on increasing awareness for HIV/AIDS among Notre Dame students and faculty.