Jason Laws '07
Political Science and Spanish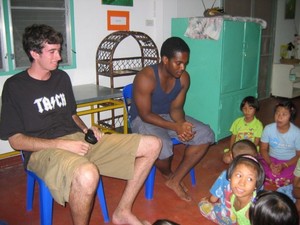 Jason Laws traveled to Thailand.
Jason returned recently from eight weeks in Thailand, working at Maryknoll facilities that care for orphans and other destitute people, as well as teaching and doing home visits for a child-development center that encourages youths victimized by a cycle of prejudice and poverty. For this marginalized population being served by Maryknoll, poor educational, economic, and health-care opportunities were all of a piece. Jason says he had started out at Notre Dame as a pre-med, but he envisions a different career path now that he has seen first-hand how so many issues are intermingled "from a social justice perspective."
An abiding passion for justice and charity had gotten him involved in activities of the Center for Social Concerns early during his years at Notre Dame. He was primarily interested in U.S. activities, but the center's summer service learning program in Thailand has changed that forever, Jason says. "This is a world that is more and more connected," he says, so students need a global perspective.
Now, Jason is thinking about such options as the U.S. Foreign Service and perhaps law school or the International Center for Transitional Justice down the road. The bottom line is that he will maintain his determination "to right wrongs," but he says he also holds on to another lesson learned in Thailand—the profound simplicity of life in a setting with few of the distractions that mark Americans' busy technological world.
< Back to all students