Kim Del Guercio '07
Biology and Art History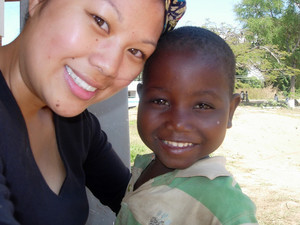 Kim Del Guercio traveled to Malawi.
Kim spent two months this summer in Malawi, one of the poorest nations in the world, seeing first-hand the linkage between malnourishment and vulnerability to diseases like tuberculosis, malaria, and HIV/AIDS. Through the Center for Social Concerns and its International Summer Service Learning Program, Kim connected with Catholic Relief Services, which placed her first with a program that focuses on feeding families at risk of starvation and then with a community care center for orphans.
Many of those orphaned had lost one or both parents to HIV/AIDS, which is especially ravaging to the malnourished, Kim says. Her experiences, which included on-site service to the CRS clients as well as communication and database assistance to boost organizations' efficacy and influence, increased her interest in pursuing a master's degree in public health and eventually working in international relief and development.
"I like to think of myself as a world citizen," explains Kim. Her own roots are Korean, but she was adopted by American parents; two summers ago, she worked with a social welfare services agency in South Korea, and on her flight back to America she volunteered to accompany a child who was also being adopted in the U.S. The idea of human caring that literally spans cultures and continents "makes me want to give back."
< Back to all students