Stephanie Gharakhanian '07
Science Preprofessional and Peace Studies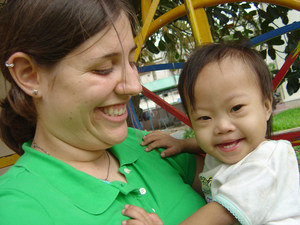 Stephanie Gharakhanian traveled to Cambodia.
A summer of study in Cambodia through the Center for Social Concerns in 2005 was part of an educational process for Stephanie. She worked in a nutrition center that cared for disabled children—a group that is largely cast into the shadows of social indifference.
Before that, as a freshman, Stephanie got involved with the Center, and she traveled to a section of the southern United States to get her first glimpse of rural poverty and the relatively primitive medical care there. This was a case of people essentially being forgotten and ignored, she says, noting the connection between health, poverty, peace, and justice. Her studies and experiences have led her to embrace the connectivity of principles that she discovered in Catholic Social Teaching, she says.
Pondering questions about how she should address this phenomenon through her own life, Stephanie took a leave of absence last semester so she could do extended research in Nicaragua. The research, which earned credit from the Kroc Institute for International Peace Studies, explored the process of reconciliation between ex-combatants after that country's bloody civil war. Now, she wants to pursue a master's degree in social work, perhaps so she can work with teams of doctors or work in administration of non-governmental organizations combating social challenges in an integrated, humane way.
Photos

< Back to all students