The Crisis: 20 million died from HIV/AIDS…350 million at risk from malaria…30 million children die before age 5
Forging Solutions: Notre Dame is bringing together world leaders, scholars and students to discuss some of the world's most challenging issues.
Effecting Change: Solutions require voices from various fields of expertise united in their concern for humanity.
How much difference can one person make? Along with selected students and alumni, the panelists will discuss efforts to reduce the number of people who suffer and die needlessly from easily preventable and curable diseases.
Get inspired. The panelists will show you the kind of commitment you can make to these issues. All faculty and students are invited to reflect together on appropriate responses to this pressing global crisis.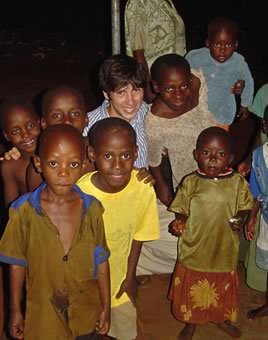 Holy Cross hosts in Uganda assist memorable steps for medical students. Read full story.

A cutting-edge facility to forge 21st century solutions to the global health crisis. This year's Forum coincides with the opening of our new Jordan Hall of Science, the most innovative science and teaching center of any university in the nation.
Technology to educate those who will help make a difference. Providing access to some of the most advanced technologies available in science education, it positions Notre Dame to educate the future leaders who will tackle humanitarian and environmental challenges, helping them to make a difference in the world. Read how.
11.22.2006
In commemoration of World AIDS Day on December 1st, the World AIDS Day task force sponosred by the CSC will be hosting a week of events that focus on increasing awareness for HIV/AIDS among Notre Dame students and faculty.
11.07.2006
The Center for Aquatic Conservation, GLOBES, The Office of Research, and The Graduate School invite you to participate in NDEER 2006. NDEER 2006: 5th Annual Symposium on Notre Dame Environmental Education and Research.
10.26.2006
In order to facilitate the campus conversation begun by the ND Forum about global health issues, the Provost's Office and the Office of Student Affairs have created a ND Global Health listserv.