Notre Dame Forum Details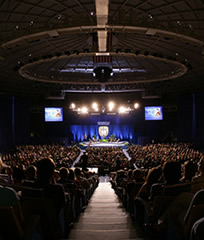 September 14, 2006 at 1:15pm - 3:15pm
Joyce Center
Tragically, ten million children will die this year from preventable or treatable illnesses.
One cannot read the news today without being confronted by reports of violence, poverty, hunger, and disease afflicting the human community, especially in the developing world.
Some of the people who are leading the effort to combat infectious disease and poverty in developing nations will engage the entire campus community in a conversation on this subject. These individuals have devoted their careers to helping the world's poorest populations.
What to expect at the Forum
Listen to Forum panelists, along with select ND students and alumni, discuss various efforts to reduce the number of destitute people who suffer and die needlessly from easily preventable and curable diseases.
Gain a deeper understanding of the challenges and opportunities to eradicate extreme poverty and combat infectious diseases.
Learn how committed individuals are saving lives and changing the conditions that threaten global health.
Participate: We hope you will join us in the JACC at 1:15 PM on Sept. 14, 2006. You do not need to RSVP to attend the forum. If you are unable to attend, you can watch the forum live on this website. The closed circuit broadcast of the Forum will be on ND CATV channel 53.
Become Engaged: The Forum on September 14 kicks off a campus-wide conversation on the Global Health Crisis. You can make a difference by engaging in discussions within your residence hall, attending a follow-up seminar, pursuing a relevant research project, participating in a fundraiser, or volunteering to serve in an undeveloped country.

A cutting-edge facility to forge 21st century solutions to the global health crisis. This year's Forum coincides with the opening of our new Jordan Hall of Science... > Read More
Subscribe

11.22.2006
In commemoration of World AIDS Day on December 1st, the World AIDS Day task force sponosred by the CSC will be hosting a week of events that focus on increasing awareness for HIV/AIDS among Notre Dame students and faculty.