What We're Doing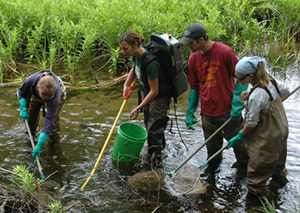 How Notre Dame is making significant contributions to global health
"Notre Dame's commitment to alleviating pain and suffering allows us to infuse our Catholic mission with intellectual pursuits in very distinct and practical ways." -Professor of Biological Sciences Jeffrey L. Feder, director of ND's GLOBES program
Global problems deserve study that is motivated by social concern. Biological and social questions mean more in terms of research than ever before. Pandemics and world issues surrounding AIDS, malaria, cancer, orphan diseases, and clean water have global impact in terms of human life and living conditions.
We at Notre Dame believe scientific research plays a critical role in effecting significant and sustained change. Our researchers have spent decades working tirelessly to eradicate the diseases afflicting the developing world through
vaccines and treatment for infectious diseases
water quality and treatment, soil enrichment
medical diagnostics
pharmaceuticals and drug-delivery methods
"biological" tissue for organ implants
orphan drug creation
compassionate social service
Notre Dame answers the call to humanitarian service with groundbreaking research, increasing development of new products and technologies with applications to improve our world.

A cutting-edge facility to forge 21st century solutions to the global health crisis. This year's Forum coincides with the opening of our new Jordan Hall of Science... > Read More
Subscribe

11.22.2006
In commemoration of World AIDS Day on December 1st, the World AIDS Day task force sponosred by the CSC will be hosting a week of events that focus on increasing awareness for HIV/AIDS among Notre Dame students and faculty.