Bryan Hambley '07
Political Science and Arts and Letters Preprofessional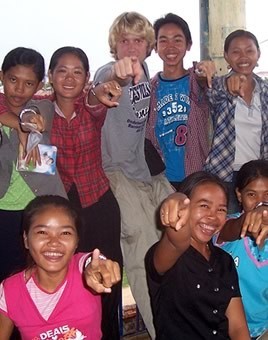 Bryan Hambley traveled to Cambodia.
Bryan's summer in Cambodia included teaching English courses and visiting a resettlement camp for internally displaced people. He did this under the auspices of Maryknoll, the Catholic mission society, with whom the Center for Social Concerns put him in touch. His experiences with AIDS and tuberculosis patients at the camp, seeing the toll taken by poor sanitation for example, reaffirmed his interest in a medical career treating infectious and tropical diseases. He is now applying to medical schools.
"You can read all the books you want," but only the day-to-day experience of life in another country can produce the "increased understanding" of global challenges confronting the next generation, says Bryan. One new realization he experienced was the "profound lack of access" to health care that many people face simply because they live far from the nearest hospital and the bus transportation to get there may cost more than a day's wages.
Bryan's experience, which spanned from early June to early August, was paid for through Notre Dame's Center for Social Concerns, and he expresses gratitude for such programs, which are often run through the CSC's International Summer Service Learning Program.
< Back to all students