Michael Kozak '08
Arts and Letters Preprofessional and Anthropology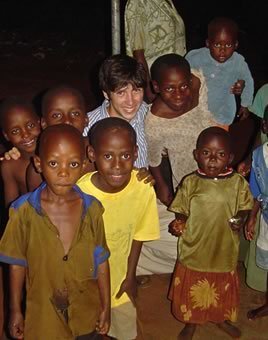 Michael Kozak traveled to Uganda.
Mike returned to the United States this July after nine weeks experiencing health, education, and faith life in Uganda as the guest of a parish run by the Congregation of Holy Cross. His journey was coordinated through the International Summer Service Learning Program in Notre Dame's Center for Social Concerns.
While staying at a Holy Cross parish, Mike helped to teach science courses in a local secondary school, getting a first-hand look at how Ugandan students were preparing for the study of medicine. Among the challenges he saw: Many of the students who become doctors leave Uganda to practice their skills elsewhere; modern treatment equipment is not commonplace; and the lack of diversity in the Ugandan diet makes people more prone to illness. He was present as one of the parish priests started an AIDS ministry in the community to spread awareness and testing.
Mike says he gained an understanding of international health issues that one can't get "until you actually see the dynamics" in another country. He wants to become a physician and to participate in a poverty health program that allows American doctors to rotate in and out of impoverished countries while maintaining primary contact with their family and practice in the US.
< Back to all students