Brian Towle '10
First Year of Studies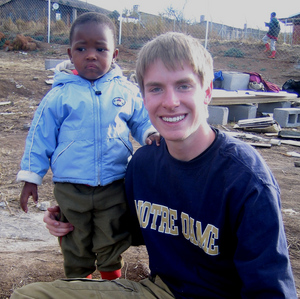 Brian Towle traveled to Lesotho.
Brian, as one of Meg's siblings, has shared his sister's interests in the endeavor of caring for Lesotho's young, HIV-impacted population. He traveled there in 2005 and 2006 and was inspired to initiate a very successful "1,000-Mile Relay" fundraiser at his high school when he was a senior.
Now a freshman at Notre Dame, Brian has joined his sister Meg and father Daniel on the board of directors of the Touching Tiny Lives Foundation, which raises funds for the Lesotho-based organization. Father Ted Hesburgh, CSC, president emeritus of Notre Dame, is honorary chair of the foundation.
Brian's interests point more toward aviation and engineering, but they nevertheless reflect the consciousness of world poverty and global health challenges that motivates countless other Notre Dame students as they study a range of disciplines and prepare for a range of careers.
< Back to all students