Jana Miller '07
Theology and Arts and Letters Preprofessional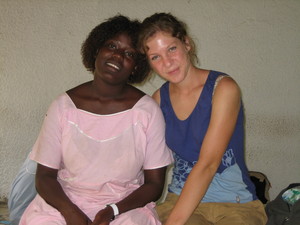 Jana Miller traveled to Haiti.
Participation in a medical mission to Haiti while she was in high school stirred Jana's desire to be a doctor in a part of the world where the need is greatest. This past summer, a nine-week service-learning opportunity in Senegal helped to answer her questions about whether such an aspiration is still right for her.
The experience of working in a non-governmental organization's facility that provided nursery and orphanage care, observing in real-time how an attending pediatrician treated malnourished children there, increased Jana's comfort level with the prospect of someday meeting such needs herself. "I felt really confirmed that that is what I really want to do," she says.
Malnutrition and disease have orphaned many Senegalese children, partly because medical care is too expensive for much of the population. The need for more doctors—with more modest income goals—is clear, says Jana. This will help to inform her ongoing study of medical ethics and her volunteer work in the South Bend community while she applies to medical schools. Her experiences have also prompted her to get involved in the Africa Faith & Justice Network and in planning events to raise AIDS awareness on the Notre Dame campus.
Photos
< Back to all students