Maggie Condit '09
Spanish and Program of Liberal Studies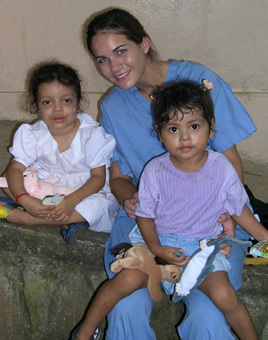 Maggie Condit traveled to El Salvador.
Maggie came to Notre Dame already having had first-hand experience with international health challenges. For three years, she had joined her Domer father, Dr. Donald Condit '80, in annual visits to El Salvador, where they worked in a Catholic medical mission called Helping Hands. The mission offered varied services to impoverished people living outside of the country's capital, San Salvador. Maggie says she was struck by how things that Americans take for granted, like vitamin supplements and toothbrushes, were impressive and important additions to the population's basic health.
Those Latin American opportunities for discovery have influenced Maggie's choice of areas to study at Notre Dame—Spanish, because knowledge of the language is invaluable in the outreach to people like the Salvadorans she has met, and Liberal Studies, because the program's emphasis on philosophy and ethics ties in with moral dilemmas at the core of the global health crisis, Maggie says.
She is interested in a teaching career and is eyeing Notre Dame's well-respected Alliance for Catholic Education (ACE) program, which prepares students to teach in Catholic schools in impoverished areas of the United States. Meanwhile, Maggie hopes to study abroad—in Spain, as her major would suggest—and to continue in service-learning opportunities and medical missions. Her current Notre Dame volunteerism includes working in a local hospital.
Photos

< Back to all students