Meg Towle '07
Anthropology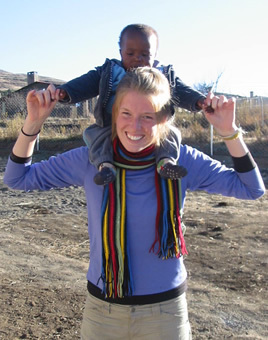 Meg Towle traveled to Bolivia.
A trip to Bolivia as a high schooler awakened Meg to international health issues, and she followed up as an undergraduate when she and her Domer father, Dr. Daniel Towle '77, traveled to the southern African country of Lesotho through a program offered by the Anthropology Department. Two years ago, Notre Dame Magazine had carried an article by Kenneth Storen '92, who has since established Touching Tiny Lives, which seeks to stabilize the nutrition and health of Lesotho children whose parents' generation has been decimated by HIV/AIDS. (See Notre Dame Magazine's fall 2006 issue for a photo-essay on the pandemic's effects and on remedial efforts by many people, including Meg, her brother Brian and their father, Dr. Daniel Towle '77.)
This past summer, Meg used a grant she had received from Notre Dame's Undergraduate Research Opportunity Program (UROP) to do on-site, independent research with families she met through Touching Tiny Lives. Her research examines how community-based health service models might be applied to pediatric care in places like Lesotho, and it draws heavily upon insights from Dr. Paul Farmer, one of the guest panelists for the Notre Dame Forum. She will be a presenter when the Africa Faith & Justice Network holds its annual convention at Notre Dame in early October.
Meg knows she wants to address global health challenges in her future career, but it might take several paths. She will pursue a master's degree in public health with a focus on refugee and migrating populations. Springboarding from her work in politics and economics pursuing her minor at the Kroc Institute for International Peace Studies, she says she plans to get involved in the emerging field of "peacebuilding through public health."
Photos

< Back to all students